Over the next few months, we will be including a series of Q&A posts for you to get to know us better. We begin with a brief interview of the founder and president of Allison Architects, John Allison.
Where did you grow up?

I grew up in Morrilton, Arkansas, a town of just under 8,000, and almost 50 miles northwest of Little Rock. We thought of Little Rock as the "big city". I remember when I was 9 or 10, we would go to Little Rock on shopping trips. My mother would wear a suit and high heels, and my younger sister and I had to wear "Sunday school clothes". We shopped on Main Street and always had lunch at Franke's Cafeteria.
What is your favorite color?
I love color, all colors. I enjoy combining neutral tones with intense color, and color combinations that vibrate.
Do you prefer to cook at home or eat at a restaurant?
I much prefer to eat at home. My wife Mary cooks almost every night to insure we are "eating healthy". Typically, she has all fresh veggies prepped, and I grill out when I get home. When I cook a meal, I make a huge mess and am exhausted. I don't cook the whole meal often. When we go out for dinner, we still try to make good food choices, but allow ourselves to indulge also. We prefer local restaurants with local foods and imagination.
How do you take your coffee?
I love good coffee (by good, I mean bold and fresh). I like a smidge of half and half, but lately have converted to almond milk…still like half and half.
Where would you love to visit that you have not?
Where do I begin? Nice in the south of France, Istanbul, London, Prague, Barcelona, Buenos Aires and Paris (although we've been to Paris a few times). I tend to gravitate toward the world's great cities (it all started with the trips to Little Rock, I suppose).
Do you prefer to draw with a pen, pencil, or computer?
It depends on the task. I like to sketch with a soft lead pencil. My favorite is a fat black "lead holder" by Sennelier that I bought in Paris. When I need to be more precise, I use CAD now, although I miss drawing with a T-square and triangle. There's nothing like hand-drawn drawings on vellum.
Why did you decide to attend Architecture school?
Until my senior year of high school, I (and my parents) had planned that I would enter premed and then med school. During that year, the high school counselor and a favorite English teacher convinced me that with my skill set (art, math and language) that I should consider architecture. I was accepted at the University of Arkansas Department of Architecture, and decided to "give it a try". Fay Jones was Dean, and we had many classes in the Fine Arts Building with the Art Department. After the first semester, I was hooked, and four and one half years later, I graduated.
What led you to start your own firm?
I founded Allison Architects almost twenty years ago in 1996. Before that, I was a founding partner of Allison, Moses, Redden Architects, now AMR. That firm was multi-disciplined including architecture, development and real estate. After thirteen years with AMR, I realized that I preferred to concentrate solely on architecture in order to focus on design. Also, as a smaller firm, I found I could give clients more personal service, and be directly responsive to their needs.
Today, Allison Architects is a thriving, creative firm, and has offices in Little Rock and Fayetteville. We all love being architects, and have had the honor of working on major projects around the state. We've been recognized for excellence in design many times by the American Institute of Architects (AIA), the American Society of Interior Design, and (ASID), and the Department of Arkansas Heritage, as well as other organizations.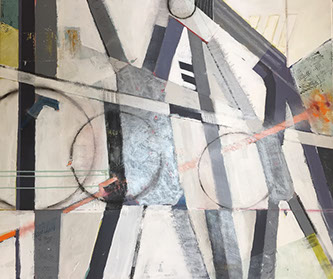 What do you like to do in your "free" time?
I'll let you know when I find some. Work can be all consuming, but I have consciously carved out time for developing my passions for art (painting), and riding a road bike. I resumed painting about six years ago after classes at the Arkansas Arts Center, and UALR. My work has been in local galleries, and currently is represented by Boswell Mourot Fine Art in Little Rock and Miami. When I'm not painting, I ride my much-loved road bike (a Cannondale EVO Super Six with SRAM Red components and Reynolds aero wheels), and try to keep up with the young guys. I'm only moderately successful, but I love it, and hope to be riding for another twenty years!
Where do you find your inspiration for your paintings?
Abstract is the direction I'm drawn to. I seem to be a kindred spirit with the abstract expressionists of the 50's: De Kooning, Pollock, Diebenkorn, etc. I typically draw my inspiration from the mundane. As an artist and architect, I think in terms of color, composition and geometry. I explore the need for order and the desire for breaking it.
Do those same things inspire the buildings that you design?
Often they do. In architectural design, I want to craft a singular and particular design for each client. The buildings don't follow a "style" but rather respond to their context, function and the owners' expectations and aspirations. However, every project incorporates the basics: ample natural light, sustainable design, gracious spaces and proportions, and simplicity of design are a few that come to mind.
What is the last book you read?
Since we're talking design, I cherish my copy of A Pattern Language by Christopher Alexander. It sets out patterns that have been observed to work well for communities as well as individual buildings. For example, the author states that really great rooms have generous windows on at least two sides; better yet three. I believe this to be accurate.
Do you have a favorite style of architecture or favorite architect?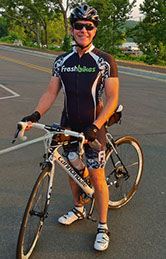 Instead of style, I would rather talk in terms of qualities that clients desire. Some descriptions and requests from our clients have included: "open and airy"; "a big sheltering roof"; "transparent - for seeing out, and people seeing in"; "sustainably designed"; "fitting in with natural surroundings", etc. My favorite architects are those who design buildings that have lasting materials, good proportions, rhythm, order and disorder in a thoughtful way. Buildings that make people feel good and promote wellbeing.
What is one of your favorite aspects of being an architect?
This is hard. I like being an architect because I get to deal with the art of architecture daily. I get to work in an atmosphere of collaboration with creative and caring professionals (like those at Allison Architects). We all love to please our clients, and leave them excited, happy and grateful for our hard work.