Ready for another round of Q&A with Allison Architects? Today, we share a brief interview with Architect Katie Bruhl. Katie began working at the firm as an intern in 2008, and we celebrated with her as she passed her Architectural Registration Exams and achieved licensure. Recently, Katie was made Senior Associate at Allison.
Where did you grow up?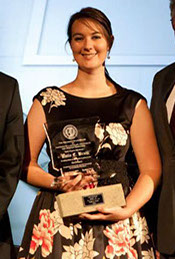 I grew up in the Delta, just outside of Helena, Arkansas.
What is your favorite color?
I love bold, bright colors. I would say that blue is my favorite, but apparently I wear enough kelly green that I have a friend who now refers to it as "Katie green".
Do you prefer to cook at home or eat at a restaurant?
I love to cook, so usually I prefer to cook at home. I do like to try new local restaurants though.
How do you take your coffee?
Loaded with lots of creamer or in latte form. Speaking of local restaurants though, 1620 Savoy has the best coffee I've ever had; I could drink it black, but they bring this delicious St. Cecilia cream to go with it – it is so good.
Where would you love to visit that you have not?
So many places; New York and Greece are the first two that come to my mind.
Do you prefer to draw with a pen, pencil, or computer?
Hand drawings are beautiful…but it's the computer for me.
Why did you decide to attend Architecture school?
One of my childhood friends says she always knew I would be an architect because I was always more interested in building Barbie a house than playing Barbies with her. For me, it was a little more coincidental: when I was in high school, I remember having to fill out a lot of forms that asked about career paths. At the time, I excelled in math and loved art, and, not knowing much about architecture, I thought it was a combination of those subjects and would be a great option. Architecture school was nothing like I expected, but after developing a better understanding of what Architecture is, I was hooked.
What do you like to do in your "free" time?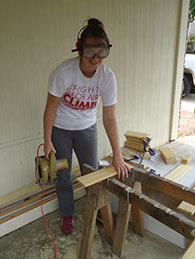 When I have spare time, I'm usually covered in sawdust or house paint; my husband and I are renovating our mid-century ranch house. We are currently working on the kitchen. We also have a 17-month-old daughter, so spending time with her is really how we enjoy our free time.
What is the last book you read or last movie you watched?
The last book I read was Stephen King's 11/22/63; I'm a fan of historical fiction so it was a fun read (and not at all what I expected from Stephen King, though this is the only book of his I've read). The last movie I've watched was Unbranded, a documentary about 4 young men who trained wild mustangs and took them on a journey from Mexico to Canada; I highly recommend checking it out.
Do you have a favorite style of architecture or favorite architect?
My favorite style is vernacular architecture. I know that is really broad, but I love learning not only about the history of a place, but also about the culture and technology of the time, through it's architecture.
What is one of your favorite aspects of being an architect?
There's so much I enjoy about practicing architecture, but one of my favorite aspects right now is figuring out the way things go together – working through the details, both in drawing form and in actual construction. Being more hands on with our home renovation has really challenged me to think through how I draw details for our construction documents.
​